Well, I'm up on the Love Notion Summer Lace Tour! And for my blog, I did something a little different. I did something scary. Something I avoided for a long time. I tested the Love Notions Luna Loungewear almost exactly two years ago. I made a cute and comfy tank/shorts set for the test and loved it so much that I promptly cut out a sassy lace nightgown. And then it sat in my bin of unfinished projects (UFOs). It sat a little bit because I was afraid of trying to sew the lace, and a little bit because I wasn't confident in sewing the elastic. But the real reason it sat is that I didn't think I was thin or pretty enough to sew such a thing. I didn't think I deserved to feel sexy or attractive. I didn't think I should enjoy wearing something pretty and saucy. Because I have a kangaroo pouch where my c-sections occurred. Because I have eczema. Because I have more wrinkles than I used to. Because I have flabby arms…and kind of flabby everything. Because I'm not cute and young and skinny. When this blog tour came about, I decided it was time to finish the damn thing and face those ideas, or at least set them aside.
Yes, I've got a lived-in body. And though I am all about acceptance, I don't do a very good job accepting myself. I can't tell you that in sewing this I suddenly accept my body as it is. I don't. And I've gotta tell you, trying to get these pictures was kind of hysterical. I used the self-timer on my camera for the first time. I strategically hid the piles of clothes and boxes strewn about because we're literally in the middle of moving, and piled the camera on top of old board games on a ladder and then tried to run into position and snap a picture that was remotely useable. I trashed a lot more than I kept. But I did get a couple that were acceptable, and dare I say, one or two that I think are even kind of pretty.
I made no mods to this pattern except to shorten it to above the knee. I didn't hem the bottom because this was a fun sew and hemming isn't fun. But that just shows you how versatile a pattern can be, simply by your choice of fabric. I think the tank would be awesome in lace as well, either as a layering cami to go under tops or to wear with a solid underneath. I could have lengthened this just a touch and made a slimmed down version in CL or ITY and would have had a lovely, fancy dress. I have a similar RTW one that I wore to a wedding, actually.
I've got a fun, sassy, completed project now. I sewed the elastic. I serged the stretch lace. I photographed the creation and shared those pictures on this blog. Yikes. So here's my two cents: you're awesome just as you are. You deserve to feel good however fat or thin you are, however many wrinkles you have, however much confidence you have in your looks. You are worthy. Don't be like me. Sew the pretty thing now and wear it with pride. Have fun! You deserve it. We all do.
Make sure you check out the rest of the amazing folks on this blog tour. I am so lucky to get to learn from and cyber-sew alongside these women.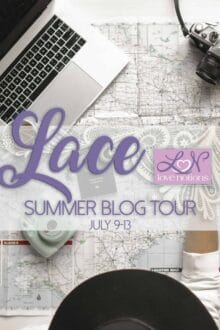 Monday: Sewing Curves SewSophieLynn Kainara Stitches
Tuesday: doodlenumber5 My Heart Will Sew On Third Shift Creations
Wednesday: Princesse et tresors Phat Quarters
Thursday: All Things Katy! Back40life,Sprouting JubeJube
Friday: Sew Like a Sloth Very Blissful Seamly Behaviour
This post contains affiliate links. They don't cost you anything and contribute a little to my blogging efforts (and fabric and pattern collection). Thank you for your support!